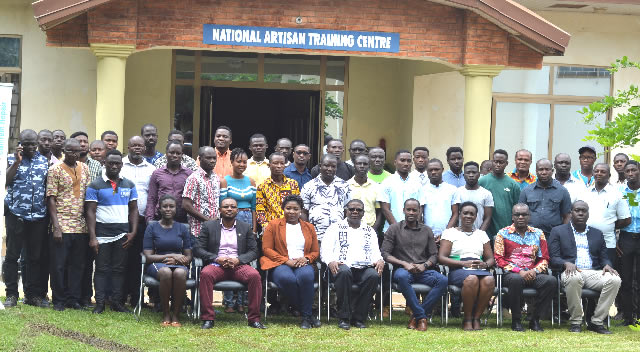 A senior research scientist at Building and Road Research Institute says the government must utilize low carbon concrete to reduce the impact of climate change. Dr. Mark Bediako says growing population and attendant demand for construction services gives rise to the emission of carbon dioxide.

"Our President is talking about sustainable development that leads to climate change; there's a need for us to look at the construction industry. Now we're building railways, building homes for the needy and we need concrete so, we're going to contribute hugely to carbon dioxide emissions," he pointed out.

"The best is to use materials that can produce low carbon concrete and that's what the world is pushing for," Dr. Bediako stressed.
Dr. Bediako was speaking at the maiden Concrete Technology Training in Kumasi.

The construction industry is the second leading contributor to Gross Domestic Product, behind agriculture.

Demand for concrete and expected carbon dioxide generation is expected to go up due to increase in infrastructural projects.

Ghana's annual consumption stands at 15 to 16 million metric cubes.

Reducing cement use with low carbon materials has become crucial.

"In many places, they're replacing cement with pozzolants and these are low emitter of carbon dioxide," he explained.

The concrete Technology training is organized by MC-Bauchemie Ghana in collaboration with Building and Road Research Institute.

Scientists and other stakeholders in the building industry participated. They were taken through concrete mix designs and standards, various concrete constituents and effects of water-cement ratio, among others.

Discussions at the 2-day forum also covered the use of low carbon emitters, known as admixtures to save cost while ensuring quality.

Director of Research and Development at MC-Bauchemie Ghana, Vincent Oderah is hopeful the training would improve construction services by use of new technology.

"We want to train more people to spread the know-how and we've taken it to the basic principle," he said.

Head of Sales, Richard Opoku Addo, says the nation stands to benefit from such innovation.

"From 2020 MC-Bauchemie Ghana Limited will be selling from Kumasi to the end of Ghana, to improve upon the know-how of stakeholders," he said.

Some participants found enlightenment in concrete technology and applications very useful.

"I've learnt so much on especially on efficient concrete mixing. Gone were the days when we had problems with concrete and the building," said Asare Bediako Adarkwa Jnr., Quality Assurance Engineer at Attachy Construction Limited.

myjoyonline.com