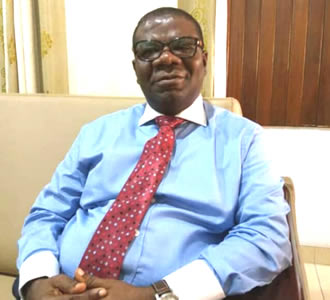 Surv. Daniel Asenso-Gyambibi, a Principal Research Scientist, has been ushered in as the Director of the Institute at a brief ceremony.
He takes over from Ing. Dr. Eugene Atiemo, a Chief Research Scientist. This event took place on Thursday, November 1, 2018, at the Institute's Conference Room during an emergency Internal Management Committee(IMC) meeting, organised for that purpose.
Surv. Daniel Asenso-Gyambibi promised to uplift CSIR-BRRI to another level by considering partnership with government and industry. Building a symbiotic relationship with key players in the science and technology industry, he said, would help improve the Institute with greater focus on the Brick and Tile as well as Pozzolana factories.
Furthermore, the Director stated that he would be a committed leader by helping equip and improve the Institute's facilities by improving the internet systems, continuing uncompleted projects, furnishing the library and laboratories, as well as building skills and capacities of staff through Conferences, Workshops,Seminars and In-Service training.
Surv. Daniel Asenso-Gyambibi joined the Institute in 1998 when he finished his mandatory one year outstanding National Service the previous year, following the completion of his undergraduate degree from the Kwame Nkrumah University of Science and Technology. He is currently a PhD candidate and has served on several boards and committees within the Council. He has over 20 years of experience in construction, consultancy services in roads, buildings, dams, topographic mapping and civil works. He is also a member of the Research Staff Association and has served as President and Secretary of the local branch for many years.
Members of the IMC warmly welcomed the Director and shared solidarity messages with him